*Angel Blessing Meditation CD*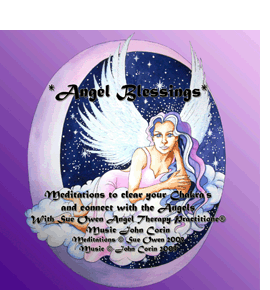 Welcome to *Angel Blessings* an Angelic Meditation CD to clear and balance your Chakraís and help you connect with your Angels.
The Meditations are channelled by Sue and take you on a journey to inner peace and tranquillity
Each meditation is accompanied by soulful music composed and played by the talented John Corin on his beautiful Celtic Harp.
For those with busy lives who wish to take time to meditate but feel they havenít got the time, this CD will take you there.
Track List
Track 1 Introduction 1:52
Track 2 Chakra Meditation 13:56
Track 3 Meet the Archangels 18:58
Track 4 Journey to meet your Guardian Angel 12:56
Track 5 Relax with your Guardian Angel 14:52