Angelic Reiki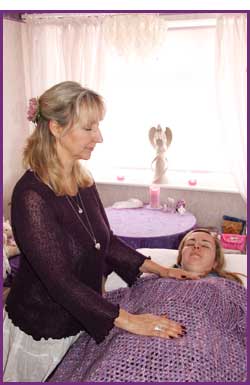 Angelic Reiki is a truly beautiful therapy, which combines the wonderful energies of the Angelic Kingdom with the Ascended Masters and loving Galactic Healers to bring about well-being and peace for all recipients.
The healing received helps with any physical ailments as well as mental and emotional issues. It is non-invasive, gentle and deeply relaxing. Often the recipient drifts off to a peaceful place, even sleep and on awakening feel completely comfortable and refreshed.
The Angelic Kingdom desires to work with us and create a harmonious life and by receiving Angelic Reiki, this can help in so many ways. It can relief stress and anxiety, it helps with sleep deprivation, aches and pains and so many issues that we experience as humans.
Many recipients experience seeing beautiful colours, even images of angels, as well as spirit guides. Every treatment is unique but always comforting and filled with love. Often the recipient is given a message by the Angels, which enhances the treatment received.
Each session lasts approximately an hour and includes consultation time. I feel very privileged to be able to offer this wonderful therapy and know you will benefit greatly from it. Just call 01730 267286 or email me sueowen.angels@gmail.com to make your appointment and allow the Angels to take you to a better place!
The energy exchange for this wonderful treatment is £44.00